Local Events
Singapore Allergy & Rhinology Conference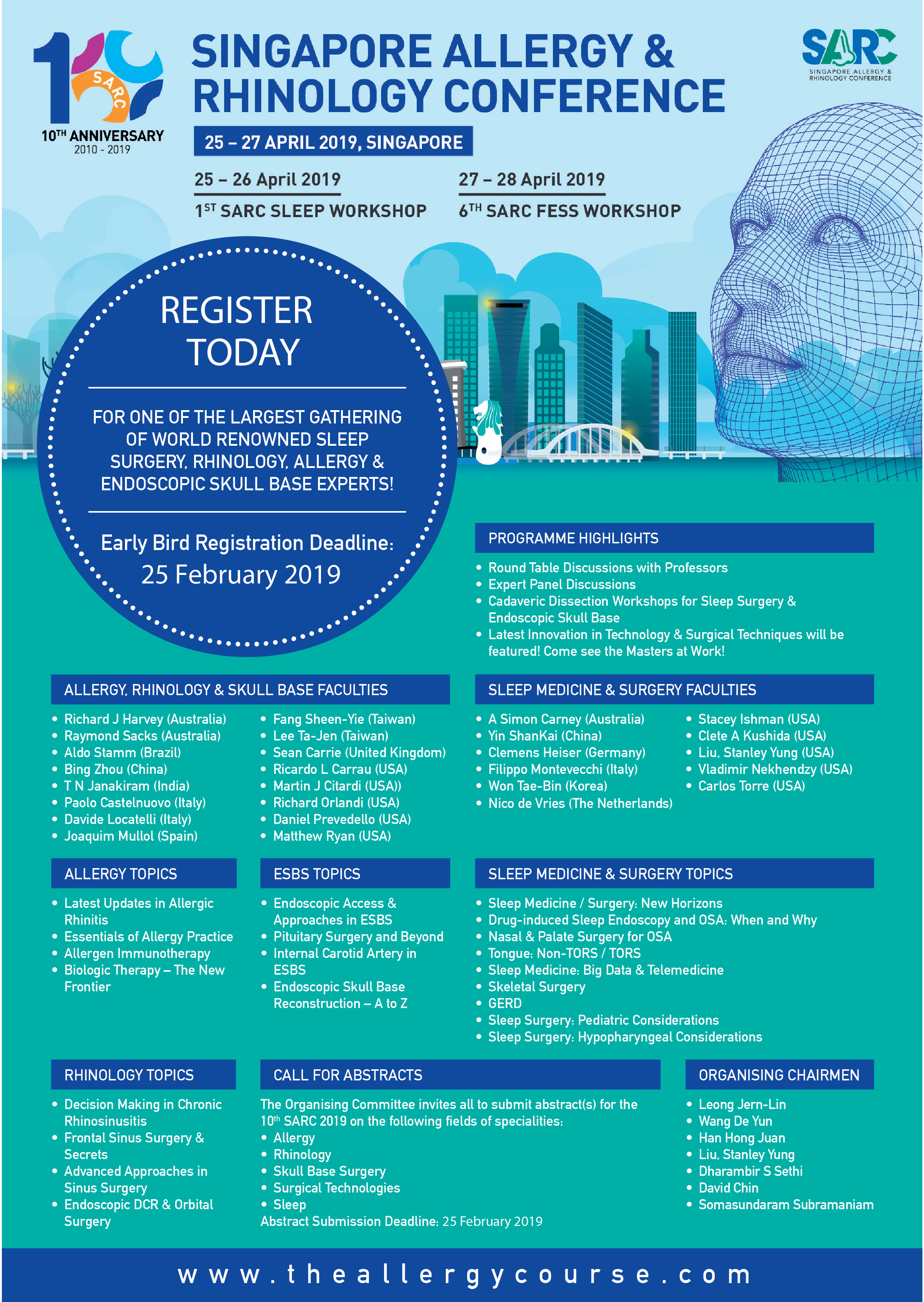 Date: 25-27 April 2019
Venue: Grand Copthorne Waterfront/Academia(SGH campus)
Highlight: 1st SARC Sleep Workshop (25-26 April)
10th anniversary of the Singapore Allergy and Rhinology Conference (SARC) and the 6th SARC FESS Workshop.
One of the largest gatherings of world renowned sleep surgery, rhinology, allergy & endoscopic skull base experts.
Early Bird registration deadline: 25 February 2019
Prof Till Roenneberg - The Circadian Clock and Human Health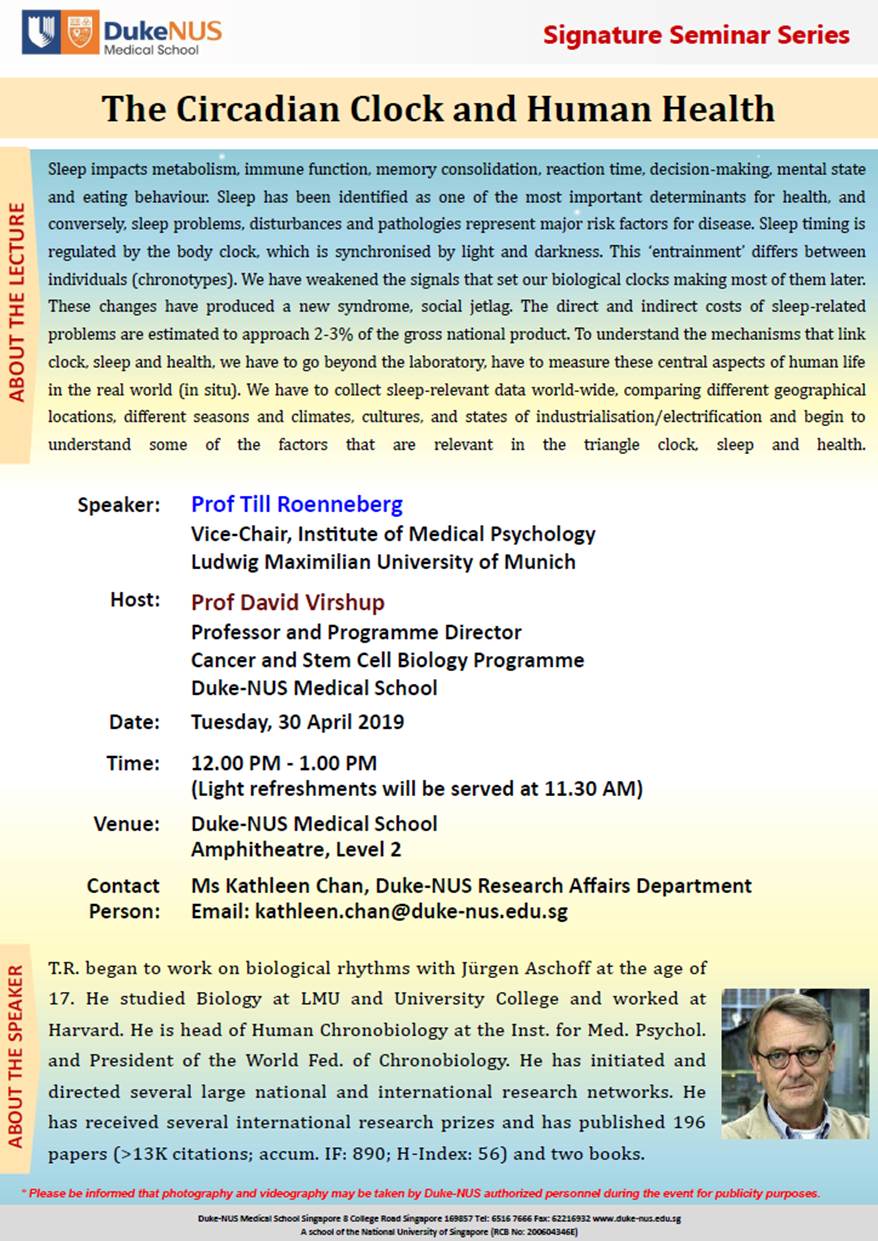 Date: Tuesday 30 April 2019
Time: 12-1 pm
Venue: Duke-NUS Medical School, Amphitheatre, level 2
Sleep impacts metabolism, immune function, memory consolidation, reaction time, decision-making, mental state and eating behaviour. Sleep has been identified as one of the most important determinants for health, and conversely, sleep problems, disturbances and pathologies represent major risk factors for disease. Sleep timing is regulated by the body clock, which is synchronised by light and darkness. This 'entrainment' differs between individuals (chronotypes). We have weakened the signals that set our biological clocks making most of them later. These changes have produced a new syndrome, social jetlag. The direct and indirect costs of sleep-related problems are estimated to approach 2-3% of the gross national product. To understand the mechanisms that link clock, sleep and health, we have to go beyond the laboratory, have to measure these central aspects of human life in the real world (in situ). We have to collect sleep-relevant data world-wide, comparing different geographical locations, different seasons and climates, cultures, and states of industrialisation/electrification and begin to understand some of the factors that are relevant in the triangle clock, sleep and health.
International Conferences
Sleep & Breathing 2019
April 11-13 2019, Marseille, France: The fifth international conference organised by the European Respiratory Society (ERS) and the European Sleep Research Society (ESRS)
Early bird registration deadline: January 1st 2019
SLEEP 2019
June 08-12 2019, San Antonio, USA: Annual meeting of the APSS - Associated Professional Sleep Societies
Abstract submission deadline: December 17 2018
Registration opens: January 2019
World Sleep 2019
Sept 20-25 2019, Vancouver, Canada
Abstract submission deadline: Jan 31 2019 (Early acceptance), June 15 2019 (Oral abstract/Young or New Investigator abstract), Aug 1 2019 (Poster abstract)
Early bird registration deadline: April 30 2019
5th Asean Sleep Congress
Nov 12-13 2019, Da Lat city, Vietnam
Deadline: April 15 2019 (Early acceptance), June 30 2019 (Early registration), Aug 15 2019 (Oral abstract), Oct 1 2019 (Poster abstract)