Local Events
The A-B-Zzz of Sleep in Singapore: A Lifespan Perspective

Date: 27 April 2021, 9am-1pm
Venue: Online
Highlight: 2021 Virtual Singapore Sleep Symposium


Topics of discussion:
Session1: Sleep in Children
Session2: Sleep in Adolescents
Session3: Sleep in Undegraduates/young Adults
Session4: Sleep in Older Adults/Patient Populations
Session5: Sleep Across the Lifespan
Free webinar: Sleep Better. Perform Better.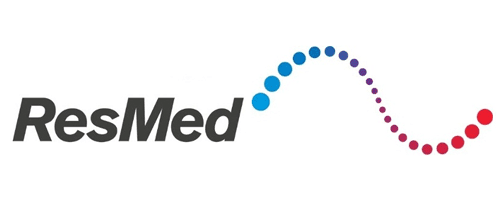 Date: 17 April 2021, 2-3.15pm
Venue: Online.
Highlight: with Dr. Leow Leong Chai and Dr. Joshua Gooley


Topics of discussion:
Sleep Quantity versus Sleep Quality
How sleep deprivation can affect my performance and contribute to chronic diseases
Tell-tale signs of sleep apnea as told by a sleep apnea patient
Tips on how to sleep better
Live panel discussion on "The Science of Sleep"

Date: 29 March 2021, 5-6pm
Venue: LinkedIn Live online panel discussion.
Highlight: Interview and Q&A with Dr. Joshua Gooley
The session will cover topics related to achieving healthy sleep. The session is moderated by celebrity personality Jade Seah with Q&A with Dr. Joshua Gooley, President of the Singapore Sleep Society.
Regular Sleep Healthy Future (Public forum)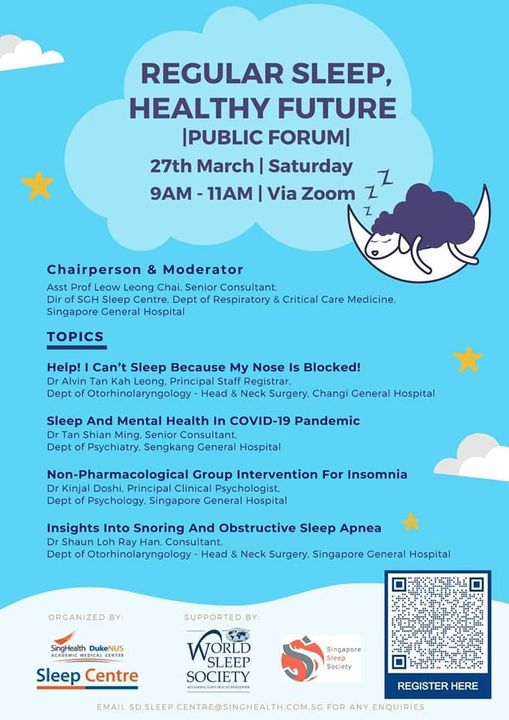 Date: 27 March 2021, 9-11am
Venue: via Zoom

In celebration of World Sleep Day 2021, public forum about sleep health. Open to all.

Topics:
Help! I can't Sleep because My nose is Blocked!
Sleep and Mental Health in Covid-19 Pandemic
Non-Pharmacological Group Intervention for Insomnia
Insights Into Snoring and Obstructive Sleep Apnea
Regular Sleep Healthy Future (GP forum)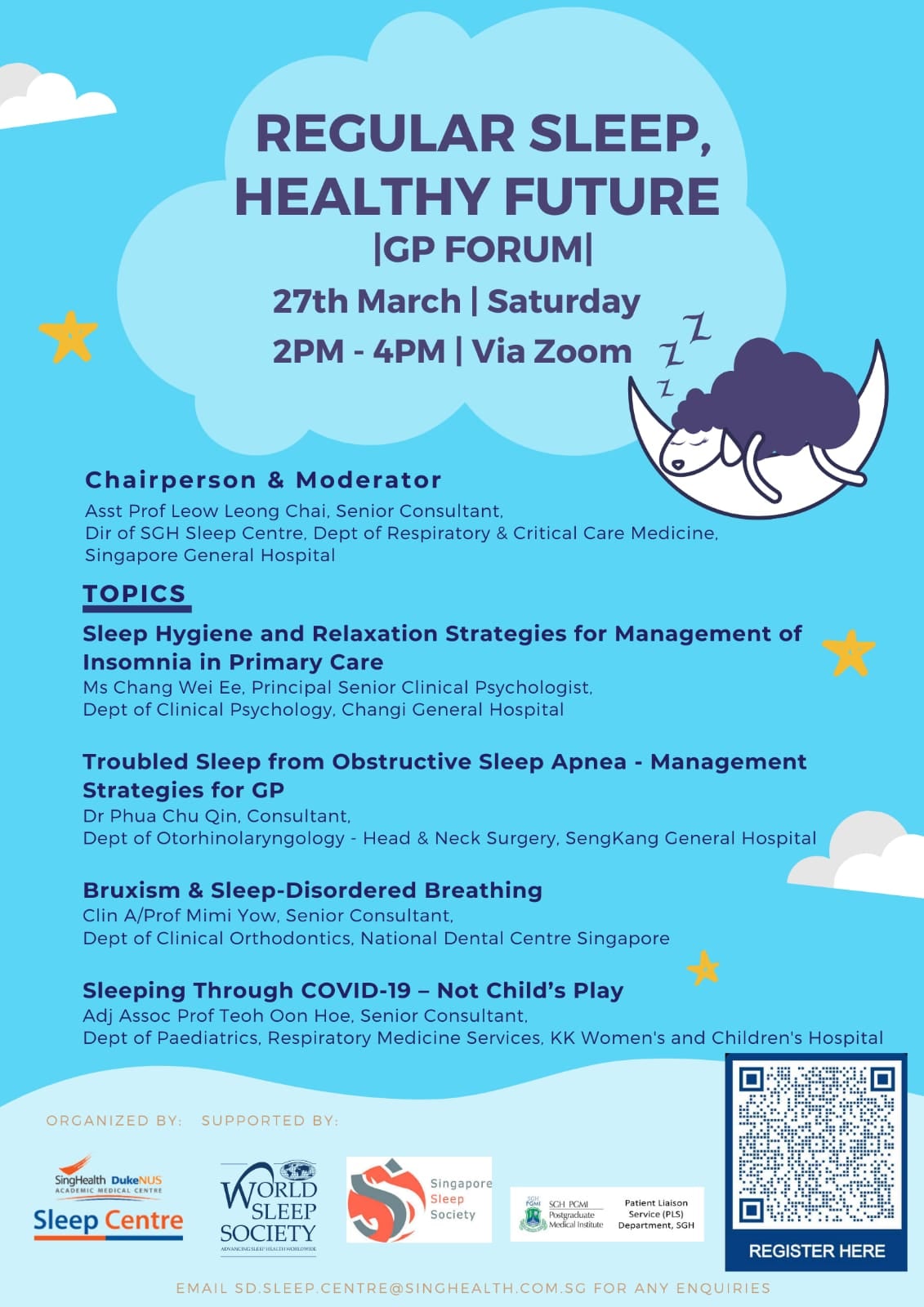 Date: 27 March 2021, 2-4pm
Venue: via Zoom

In celebration of World Sleep Day 2021, calling all GPs to join us in this exciting webinar to learn more about the management of sleep disorders in primary care.
Topics:
Sleep Hygiene and Relaxation Strategies for management of Insomnia in Primary Care
Troubled Sleep from Obstructive Sleep Apnea-Management Strategies for GP
Bruxism & Sleep-Disordered Breathing
Sleeping Through COVID-19 - Not Child's Play
International Conferences
Sleep and Breathing 2021
April 16-17 2021, Prague, Czech Republic
Abstract submission will be open in September 2020
Virtual SLEEP 2021
June 10-13 2021: Annual meeting of the APSS - Associated Professional Sleep Societies
Deadline Early Bird registration: April 30, 2021
ESRS: 26th Congress of the European Sleep Research Society
September 27-35 2021, Athens, Greece