Local Events
Singhealth World Sleep Day Public webinar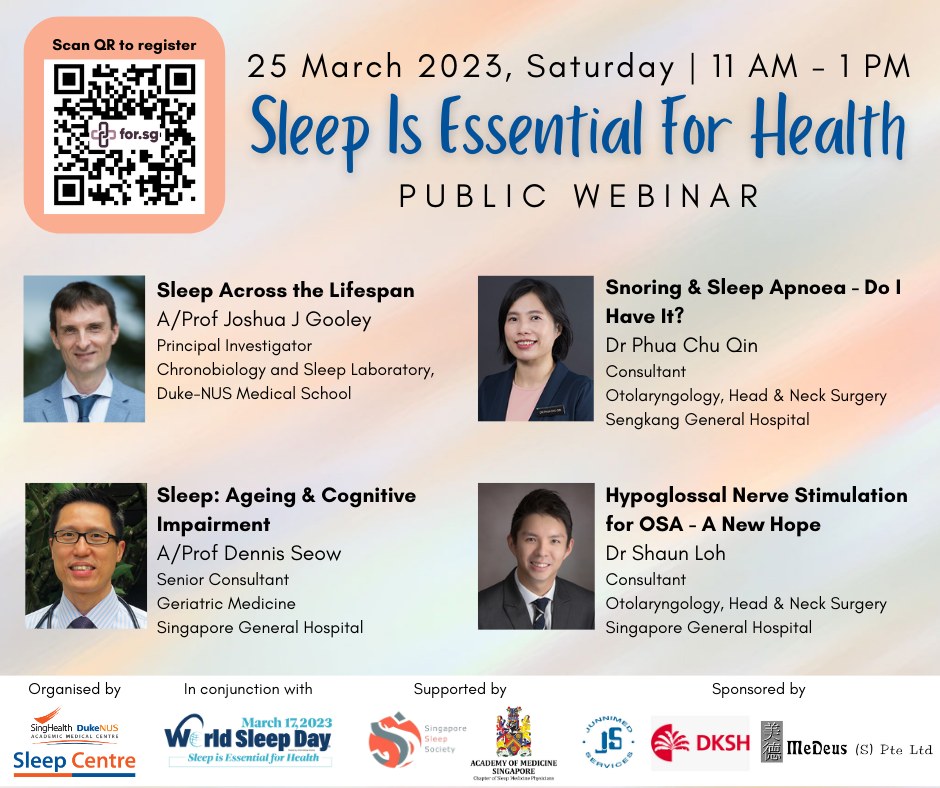 Date: Saturday, 25 March, 2-4pm
Venue: Online
Cost: Free
Sleep Across the Lifespan
Sleep: Aging and Cognitive Impairment
Snoring & Sleep Apnoea - Do I have it?
Hypoglossal Nerve Stimulation for Obstructive Sleep Apnoea
NTFGH World Sleep Day Healthcare Professional seminar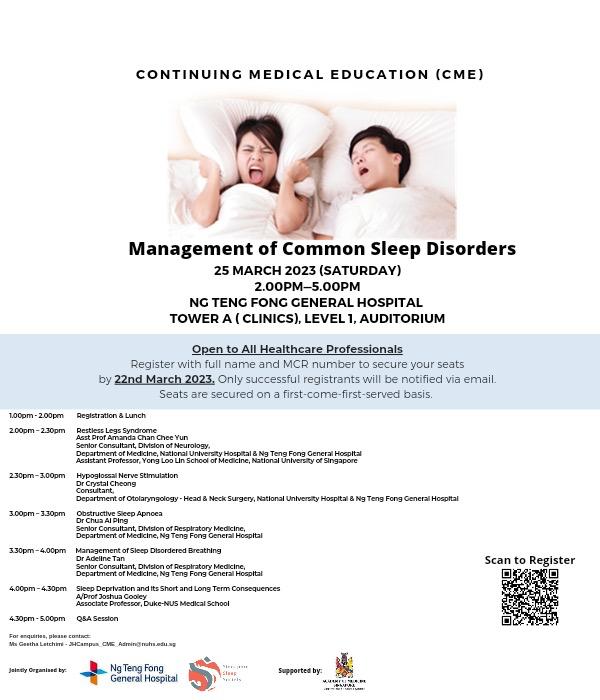 Date: Saturday, 25 March, 2-5pm
Venue: Ng Teng Fong General Hospital
Auditorium, Tower A, L1
Cost: Free
Restless Leg Syndrome
Hypoglossal Nerve Stimulation
Obstructive Sleep Apnoea
Management of Sleep Disordered Breathing
Sleep Deprivation and its short and long term Consequences
Singhealth World Sleep Day Healthcare Professional webinar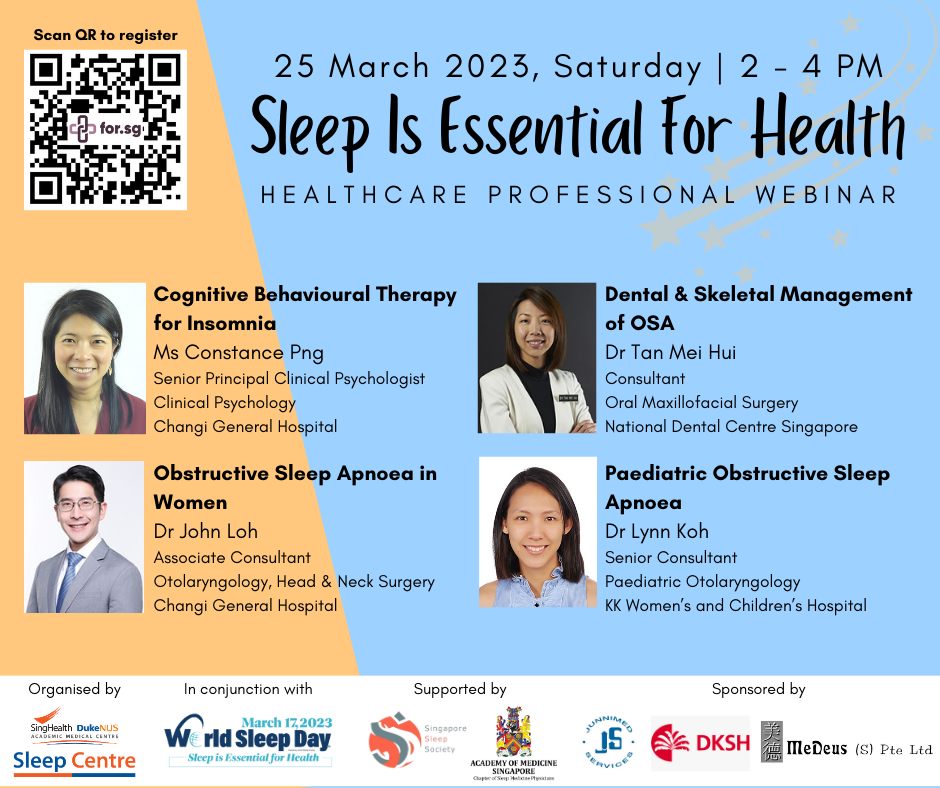 Date: Saturday, 25 March, 2-4pm
Venue: Online

Cost: Free
Cognitive Behavioural Therapy for Insomnia
Dental & Skeletal management of OSA
Obstructive Sleep Apnoea in Women
Paediatric Obstructive Sleep Apnoea
NTFGH Public Forum: Common Problems in Sleep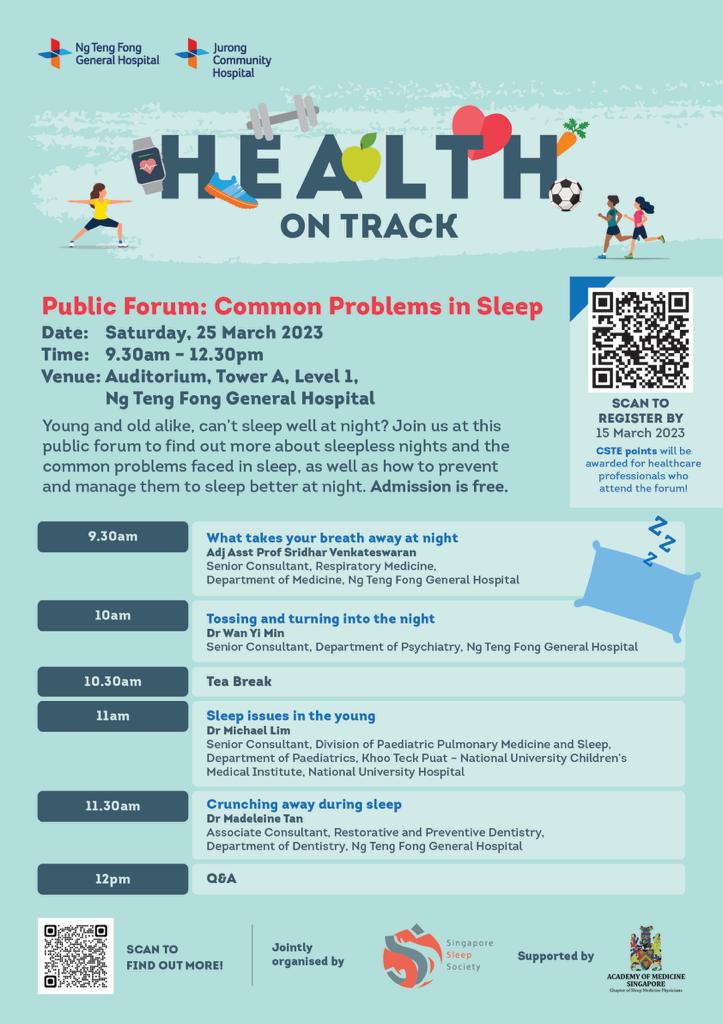 Date: Saturday, 25 March, 9:30-12:30am
Venue: Ng Teng Fong General Hospital
Auditorium, Tower A, L1
Cost: Free
What takes your breath away at night? (Obstructive sleep apnea, its complications and its treatment)
Tossing and turning into the night. (Insomnia and its management)
Sleep issues in the young. (Peadatric sleep disorders and problems)
Crunching away during sleep. (Sleep bruxism)
Designing Airway for Better Sleep: From Infant to Adult: 5th Edmund Tay Mai Hiong Distinguished Speaker Programme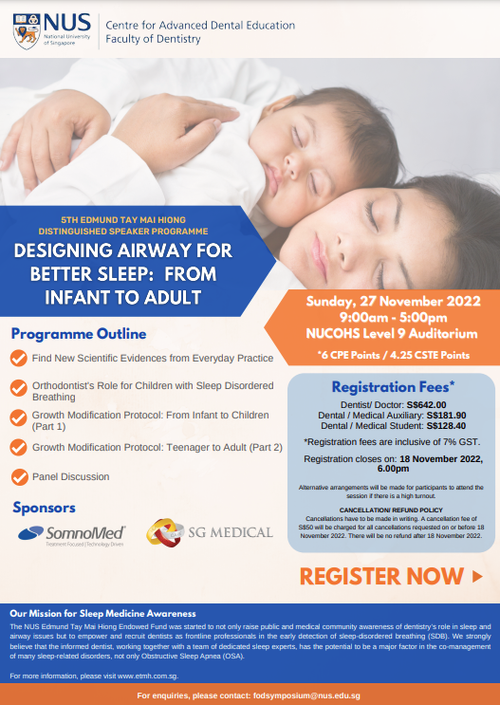 Date: Sunday, 27 November 2022, 9:00am - 5:00pm
Venue: NUCOHS Level 9 Auditorium
Speaker: Dr Audrey Yoon
Find New Scientific Evidences from Everyday Practice
Orthodontist's Role for Children with Sleep-Disordered Breathing
Growth Modification Protocol: From Infant to Children (Part 1)
Growth Modification Protocol: Teenager to Adult (Part 2) What to do vs What not to do? How to design sleep surgery?
Dentist's Role for Children with Sleep Disordered Breathing (Public Evening Lecture): 5th Edmund Tay Mai Hiong Distinguished Speaker Programme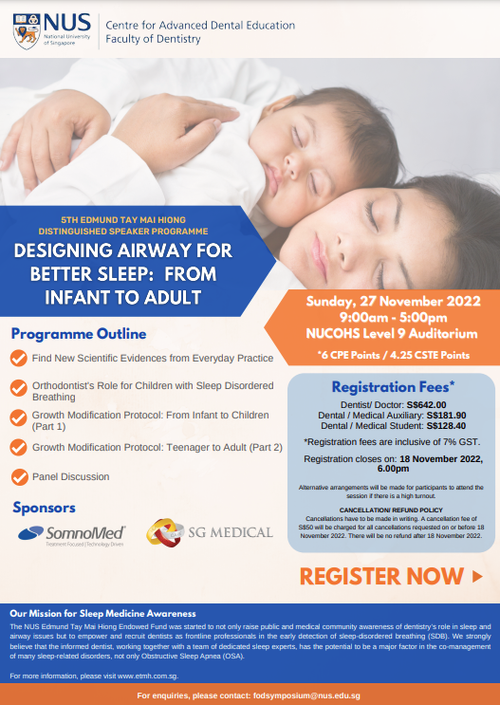 Date: Monday, 28th November 2022 6:30-8:00PM
Venue: NUCOHS Level 9 Auditorium
Speaker: Dr Audrey Yoon
Synopsis : Most current dental treatments for children with sleep disordered breathing have focused on maxillary expansion. However, we have not quite yet understood the mechanisms of how anatomical changes affect the orofacial functions and the pathophysiology of sleep-disordered breathing. Dr. Yoon will show her extensive research for a better understanding of the relationship between anatomical factors and the physiology of sleep-disordered breathing. She will discuss the early identification of the ethology and understanding the pathophysiology to prevent diseases. She will also discuss the orthodontic approach for modifying orofacial growth and development with the newest technique to achieve ideal skeletal structures and to reprogram orofacial muscle functions. She will present how to incorporate airway and sleep into everyday practice.
International Conferences