New Book on Sleep Medicine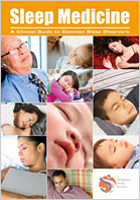 The Singapore Sleep Society has launched a new book entitled 'Sleep Medicine: A Clinical Guide to Common Sleep Disorders' to promote better understanding of commonly encountered sleep problems in Singapore and their proper treatment.
The first ever guidebook for medical practitioners on Sleep Medicine in Singapore, the book seeks to educate local healthcare professionals on the spectrum of sleep disorders and the proper use of drugs such as hypnotics, amid increasing concerns about the problem of addiction to sleeping pills and over prescription by physicians.
The book seeks to address a lack of awareness among local healthcare professionals about sleep disorders, with the ultimate goal of improving the sleep and health of the Singapore population.
Commenting on the rise in sleep problem cases in Singapore, Dr Lim Li Ling, President of the Singapore Sleep Society and the book's co-editor said that there is an urgent need to disseminate information on the recognition and treatment of common sleep disorders to local medical students, medical practitioners - family physicians and specialists alike, to reduce the enormous burden of this group of disorders.
"Although there have been major diagnostic and therapeutic advances in sleep medicine, this field has not been formally introduced in our local medical school curriculum. Teaching is currently confined to ad hoc educational programmes conducted by professional groups such as the Singapore Sleep Society and hospitals with sleep disorders clinics. As a result, even established medical professionals may not be fully aware of the entire spectrum of sleep disorders and patients could be sub-optimally treated," she said.
Sleep disorders in both adults and children are now known to be associated with a wide range of health problems including behavioural problems, hypertension, diabetes, obesity, depression, heart disease. Collectively, they represent an enormous and generally under-recognised public health burden.
"Increasing cases of misuse and addiction here have also deterred some physicians from prescribing sleeping pills. While non-pharmacological approaches like good sleep hygiene instruction and Cognitive Behaviour Therapy (CBT) should be encouraged, concerns about abuse should not deter physicians from appropriately prescribing hypnotics when clinically indicated.
"Most important is identifying the underlying cause of the insomnia and treating the root cause, such as with antidepressants and anxiolytic drugs for depression and anxiety, which are frequent causes of insomnia. Medical practitioners can also familiarize themselves with newer sedative hypnotic agents which have better safety profiles and carry less risk of dependence" added Dr Lim.
The Sleep Medicine: A Clinical Guide to Common Sleep Disorders focuses on a diversity of disciplines practising sleep medicine and its contributors include public and private healthcare professionals from the fields of Dentistry, Neurology, Otolaryngology, Paediatrics, Psychiatry, Psychology and Respiratory medicine.
Divided into adult and paediatric sections, the book seeks to provide current and evidence-based evaluation and treatment recommendations for a range of commonly encountered sleep disorders, including excessive daytime sleepiness, insomnia and abnormal sleep behaviours. It explores the most recent advances in diagnostic classification and technical standards, as well as locally available pharmacological, behavioural and surgical treatment approaches.
About the Singapore Sleep Society
The Singapore Sleep Society (SSS) was founded in 2002 by Dr K Puvenendran, a distinguished pioneer in the field of sleep medicine in Singapore. It is an independent non-profit organization dedicated to promoting awareness, understanding and research in the field of sleep medicine in Singapore. The SSS organises educational programmes for medical professionals and members of the public. These activities have included seminars on common sleep problems like obstructive sleep apnoea syndrome, public health forums on insomnia, radio talk shows and regular lectures in sleep medicine given by invited experts. Singaporeans can learn to recognize sleep problems and seek medical attention when needed from the many Sleep Disorders Clinics in public and private hospitals. Medical professionals can learn to diagnose and manage common sleep disorders effectively.
Currently the SSS membership comprises physicians, sleep technologists, respiratory therapists and research scientists. Its members are actively involved in research activities with the goal of enhancing our understanding of the epidemiology, prevention, diagnosis and treatment of sleep disorders.